Race Report: Badger Mountain Challenge (March 2019)
This is the third of my "trail race each month" goal for this year and the first time running this race. I rarely get over to eastern Washington, and I'm always surprised by the difference in terrain. Whoever coined The Evergreen State was clearly from western Washington. There are almost no trees over here.
Race Information
Where? Richland, WA
When? March 30, 2019
How far? 34 miles (5,200 ft elevation gain)
Results: 6:43:20 (29th overall, 23rd male)
Goals
This race is a huge jump in mileage and there's a reason for that. My goal race is a 100K in October. Registration opened on April 1 and required at least a 50K finish in the previous 18 months. It's been several years since I ran ultras, necessitating this race.
The only goal was to finish uninjured within the 8.5 hour cutoff.
Pre-Race
I rarely sleep well the night before an early event. I had multiple alarms set and almost no history of sleeping through them, yet I kept waking up every hour or so and checking the time. I finally gave up and got out of bed around 5:30 am.
Key Takeaway Coffee wasn't available at check-in. Take matters into your own hands and make sure you've got some.
The temperatures were in the upper 30's at the start. I'd only looked at the high temperature for the day, and wasn't prepared for the colder start. I put a long-sleeve shirt on under my short-sleeve shirt, figuring it'd be easier to shed than transferring the bib mid-race.
Key Takeaway If it's going to be a chilly start but then warm up quickly, take your arm sleeves instead of dealing with a bulky long-sleeve shirt.
The parking situation was great – I could hear the race briefing while standing at my car making final preparations. I peeled off my pants, put on my heart-rate monitor, and in a few minutes we were off!
Race
The course was an out and back. My plan was to take it out easy as we went up and over two mountains, run at a comfortable pace for the 20 flat miles, and just get through the two mountains at the end.
Badger Mountain (Out)
Fairly quickly, I discovered that my Apple Watch was using its own HRM instead of my chest strap monitor. I wasn't positive, but I was pretty sure that the battery wouldn't last 6-8 hours of heart rate tracking. As we slowly started the ascent, I was in device diagnostics mode. I tried several things through settings and was about to just give up on the first 20 minutes of recording and start a new workout. My last idea was to take the watch off, which worked. When I put it back on it was happily using the chest strap and the green light on the device was off. Unfortunately, I didn't notice that the workout was paused for about 6 minutes. All things considered, losing 6 minutes is better than the watch dying midway through the run.
Key Takeaway Make sure that your watch is using the correct HRM before starting the run activity.
The climb up Badger Mountain itself wasn't bad. The field was still bunched up and I positioned myself near the back where people weren't afraid of walking. The trail was wide enough for two people and the vast majority had good trail etiquette, allowing people to maneuver as needed.
I made a friend on that first climb. I forget how we started talking, but she was an experienced local and had lots of good ultra stories. Her sons had a track meet that afternoon and she was going to try to finish in time to go watch them. The run down the back side was non-eventful. We kept the conversation going and let gravity pull us down. When we got to the aid station, I kept going as she found somewhere to stash her jacket. She passed me on the climb and off she went racing to get back to the track meet.
Candy Mountain (Out)
This ascent was fairly runnable. Between running uphill and the sun rising a bit higher, the long sleeve shirt was quickly becoming too hot. At the peak, I took a quick panoramic that didn't turn out well and started what I thought was the beginning of a nice descent.
It was not a nice descent. The backside of Candy Mountain was incredibly steep and rocky. Running full speed wasn't an option. It was less than a mile, but thoughts of the returning ascent already started creeping into my head.
Beyond the mountain was a highway crossing through a pitch dark culvert. Having my phone handy worked out, as I flipped on the flashlight. Finally, there was a 2.5 mile stretch along the highway where I was able to mostly stay off the pavement.
Vineyards (Out)
The start of the vineyards had an aid station which I executed poorly. The portapot was 30 yards before the rest of the aid station and it was occupied. I continued to the tent, where I took off my long-sleeve shirt and packed it into my vest. After filling up my vest's bladder, I headed back to the portapot, which was still occupied. Standing around felt wrong, so I headed out of the station. About 150 yards later, I realized I didn't have my hat. Risking a sunburn wasn't worth it, so then I backtracked again to retrieve the hat.
Key Takeaway Move quickly and efficiently through an aid station. Going backwards is demoralizing.
The next several miles were along the vineyards. We'd been told in the pre-race briefing that if we ever had vineyards on both sides of the road, we were lost and should turn around. Sure enough, I saw several people make wrong turns. My legs were still feeling good, but I was forcing myself to take walking breaks on moderate hills.
Jeep Trails (Out)
My new friend from the beginning of the race had warned me that some of the Jeep trails were not runnable. That became comically obvious right from the beginning. The first section was straight down and and back out of a 200 foot valley. I laughed when I saw it, it was so ridiculous.
The elevation change of this section took me by surprise. The elevation chart on the website showed the hills, but they were rolling ups and downs. Compared to the two mountains at the beginning and end, I'd underestimated this part of the course. The amplitude was much smaller, but the frequency made up for it. I'd planned on 20 flat miles but those didn't exist.
About 4.5 miles into this 7 mile section, there was a surprise aid station! It was a greatly appreciated break. The two volunteers had driven out the morning before for the longer races and had been there all night and into the day. Once runners were on the course, they couldn't get out. Both volunteers were upbeat and encouraging, which gave me a nice mental boost.
The last mile before the turnaround was all downhill and a little sandy, but getting to the final aid station was a good milestone. I was well within pace for the cut off and my legs still felt great. I spent five minutes using the restroom, changing my socks, and filling my vest's bladder. They had a pitcher for bladders – fastest refill of the day!
Key Takeaway Filling hydration bladders is slow and messy. The current trend appears to be soft bottles in the front pockets of the vest.
Jeep Trails (In)
Knowing I wasn't in danger of missing the cutoff, I shifted my attitude a bit. There was little point in completely thrashing my legs and causing a long rest period after the race to recover. I decided to walk any incline and I refocused on my goal of finishing uninjured.
This time coming into the bonus aid station, the volunteer greeted me by name and told me I was making great time. It was a little thing, but the personal touch was really nice. The rest of this section flew by relatively quickly, aside from the hike out of that final valley.
Vineyards (In)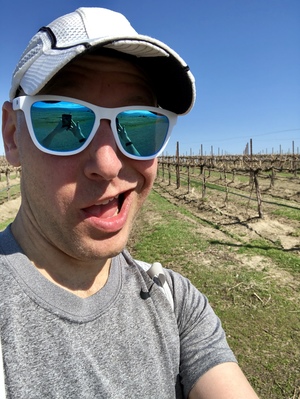 When running this section before, I hadn't realized that it had been a slow, steady uphill. It was a nice surprise to be facing a slow, steady downhill now. Aside from stopping for a quick selfie, I made good time here. My mind went quiet and I focused on my form. I passed a half dozen runners, including a hundred miler by herself who described her mental state as delerious. I hope she got through it.
The aid station went far smoother this time through. The orange slices were amazing.
Candy Mountain (In)
Before arriving at Candy Mountain, there was a 2.5 mile stretch along the highway. At the prerace briefing, the RD warned us that this stretch would feel long and he was right. I kept my mind quiet, knowing that I was approaching the final sections. I'd told myself I'd get to the mountains and then get through them. It was time.
At the base of the climb, I looked up and laughed again. The steepness was on par with the Cable Line trail on Tiger Mountain, but with better footing. It's what I signed up for, so up I went. I stopped around two thirds of the way up for a minute, but otherwise kept a good hiking pace to the peak. Once there, I got a glimpse of the final stretch: it was a beautiful day and the trails were busy.
The run down was uneventful, but Badger Mountain loomed in the distance. It looked very far away, but I knew it would come to me and focusing on it wouldn't do any good.
Badger Mountain (In)
I lost focus on the short connection between the two mountains. It wasn't very far, but I sent a couple of text messages and my head fell out of the good place it had been for the previous hour. As I turned off of the road and into the trailhead, I was surprised by a woman right on my tail. Nobody had passed me in hours and I had no clue she was gaining on me. I'd soon find out why.
Hiking up this long final ascent went really well. I was still hiking very quickly and running the flatter stretches. I'd put some distance between us. At one point, I joked with a couple of hikers if they'd mind tripping the woman chasing me. They got a good laugh out of it, and I heard them telling her on the next switchback. Probably not my best race strategy, but I'd been moving for over six hours and I was getting loopy.
Getting to the radio towers at the peak was a nice milestone. All that was left was flying down the wide trails to the finish. Pretty quickly I discovered that flying wasn't going to happen. My right IT band had tightened up, so running downhill was fairly uncomfortable. But for the woman behind me… fly down she did. She must've done the same on Candy Mountain to catch up to me. She was just gone – really impressive.
The final descent was more of a shuffle, mixing in some walking on the steeper parts. Every turn had me looking to see if I could see the finish below. Finally, I got to the last stretch of stairs and the finish area in the park. Everyone hanging out cheered as I came in, and the RD was at the finish to congratulate me and put a medal around my neck.
Success.
Post-Race
I headed straight to the food tent, got some chicken noodle soup and a cookie, and then plopped down on the ground. After seven hours of being on my feet, it was glorious. It was my first ultra in five years and had gone far better than expected. I knew that this distance was pushing it based on my training, and there was far less suffering than I anticipated. I expected to be miserable over those last two mountains and it really wasn't bad. I even beat a time from 5 years ago in a 55K, though it's tough to compare times on different courses.
I hung out at the finish for a while, cheering in other runners, resting, and eating. Later that night, I watched the Mariners with a couple of beers back in the hotel room and then had an amazing night of sleep.
All that work for the opportunity to go twice as far. Registration opened at 6am on Monday morning. It took me until about 8pm on Sunday night to convince myself I still wanted to take it on, but I'm officially registered for the Cuyamaca 100K.