Race Report: Mt. Si Relay & Trail Runs (April 2019)
This is the fourth of my "trail race each month" goal for this year and the first time running this race. I've been aware of the race and the trail it's run on for a long time, so I was excited to check it out.
Race Information
Where? Snoqualmie, WA
When? April 28, 2019
How far? Half Marathon
Results: 1:36:32 (4th of 87 overall, 3rd of 37 male)
Goals
This was the first week of my 24 week training plan, and racing a half marathon wasn't in the plan. I've recently come across the concept of 80/20 training, where 20% of weekly miles are run at medium or high intensity. 20% of my 37 weekly miles is 7.4 miles. There was a water stop at 5.5 miles, so the plan was to keep my HR around 145 bpm until then and then race.
I didn't have specific time or place goals. Looking at previous years, I thought I might be able to place pretty well. Because I rarely run on mostly flat, gravel trails, I also didn't have a good sense for what my pace at 145 bpm would be. If nothing else, I figured moving up through the field would be fun.
Pre-Race
Arriving to the start area about 45 minutes early, I had time to pick up my number and go for a brisk walk to loosen up the legs. It was a very low key start. A couple of guys said to follow them to the trail and if they couldn't keep up with you then, "You're a very good runner." I didn't take the bait.
Race
There were really just two sections to this race for me. The course was a simple out and back, almost entirely on a wide, crushed gravel trail.
Cruising the first 5.5 miles
The runners leading us to the trail kept pace with the first runner instead of taking off and leading the way. It took about 0.8 downhill miles to get to the trail, which was then up a short set of stairs and across a bridge. At the mile mark, the leader was only 30 yards ahead of me and there weren't any clearly-speedsters-holding-back around me. After a minute of internal dialog, I stuck to the plan and didn't move up to race the whole distance.
It was challenging to hold back. Frequent glances at my watch revealed I was comfortably running between 145 and 150 bpm. Of course, as time went on my pace was slowing at the same effort level.
Splits: 7:22, 7:31, 7:46, 7:53, 7:55, 8:00 (pace for 0.57 miles, including a quick stop for water)
Those first couple of miles likely had some HR spikes as I felt good and wasn't being as aware as I needed to be.
Racing the remaining 7.6 miles
After a quick sip of water at the stop, it was time to let loose! The remaining mile before the turnaround was the only significant climb on the course. It was steady but not very steep. I made a pretty clear tactical mistake on the climb by not counting how many runners were ahead of me as they came down. That left me guessing where I was for the rest of the race.
By the bottom of the hill, I'd gotten around all of the runners that had been running around my pace and got into the mode of seeing a runner way up ahead and trying to run them down. Each time I did, passing them was a commitment to keep pushing to the end of the race. Two in particular were memorable.
The first was a guy that it took me a while to catch. Soon after, I came to a road. The race packet had talked about how the volunteers had no authority to stop traffic and it was our responsibility not to get hit by a car. Up until this point, every road I'd come to the volunteers successfully had stopped traffic. At this crossing, they were holding up signs and I assumed the driver of the Mustang would come to a stop. I accelerated to cross the road, not wanting to lose the momentum of just passing a runner, but the Mustang wasn't slowing down. It was completely my fault that I ran out into traffic and the driver was understandably irritated with me.
The second was someone that, in retrospect, I didn't recognize. He was tall and wearing track spikes without spikes. As soon as I pulled up beside him, I said something encouraging and he very obviously looked at my bib. I thought it was weird at the time, but didn't understand what had happened until he crossed the finish line and it was announced he was the 50K winner. Fairly humbling to have worked so hard to catch a guy who'd run 18 miles further than me at that point.
With about two miles to go, two women were in sight ahead of me. It took me a mile to catch one, just as we were coming off of the trail. That left the last uphill push to the finish and I was unable to catch the other one, who won the women's division.
Splits: 7:03 (remaining 0.43 miles after stop), 6:54, 6:40, 6:32, 6:46, 6:43, 6:55, 7:04
Post-Race
As I crossed the finish line, I got my medal and headed down to get some water. I'd only stopped once in the race, leaving myself pretty parched. I was estatic to find that they had chocolate milk – yes, please!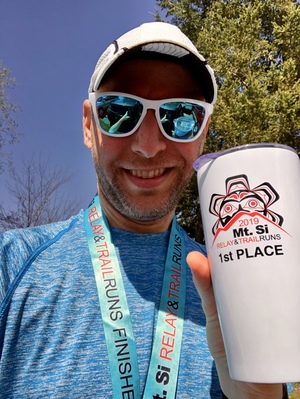 Five minutes after finishing, someone came to find me and congratulated me on first place in the mens' open division. Two masters runners beat me, so on this day it was good to be young-ish. It's my first "victory" in I don't know how long, but possibly since a college 10K in a storm with very few runners. It's a small race, but still fun to win something.