Race Report: Wilburton Hillbilly Trail Run (May 2019)
This is the fifth of my "trail race each month" goal for this year. I've run at this park many times, but this is my first time running this race. I avoided the temptation to go for the longest available race and instead chose the one that was the best fit for my training plan. It's also nice that it's the same distance that I used to race in college cross-country.
Race Information
Where? Wilburton Hill Park, Bellevue, WA
When? May 21, 2019
How far? 8K
Results: 34:15 (2nd overall, 2nd male)
Photos courtesy of Tayrn Graham.
Goals
I wanted to win this one. Looking back at previous years' results, I thought I'd have a shot. Of course, you never know who's going to show up. While I didn't achieve the goal, I had was in position for it and pushed hard throughout the race.
Pre-Race
My training plan had 8 miles for the day, so I got there early enough to pick up my number and get in a good 2 mile warm up. This was my first flashback to cross-country. I haven't previewed the course in a very long time, which proved useful.
Race
The course was a 4K loop with two distinct sections: an out and back on a wide gravel trail followed by a wooded loop on a dirt trail. There were three races that did one, two, and three loops and we all started together.
At the start, it was hard to know where I was in the 8K race. Even at the turnaround of the out-and-back section, I couldn't see numbers well enough to figure it out. I was 6th overall and I guessed 2nd-4th in my race. There were a lot of people right behind me, though.
Once we got to the wooded section, the pre-race scouting came into play. Heading into the trail, I was about 100M behind two women. This first section had a lot of very tight turns. Since I knew this, I was able to push through them and make up a lot of ground. When we popped out, I found that I was only about 25M behind them. I eventually worked my way up to them and stayed right behind them through some climbing. Once it flattened out, I moved past them. They went on to get 3rd in both the 4K and the 8K races.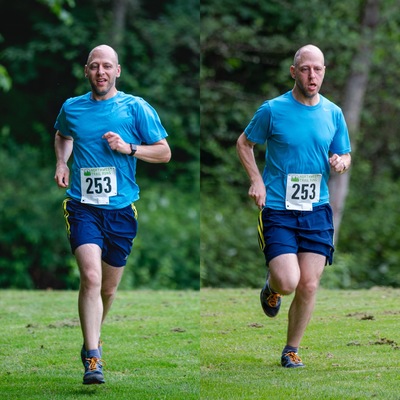 Passing by the start/finish to start the second loop, I could see ahead enough to know that I was in 2nd place with about a 200M deficit. At the turnaround, I discovered I had about a 100M lead on the third place runner and a very large gap before 4th. Barring disaster, a podium finish was locked in.
For the rest of the second loop, I was largely running blind. I got a couple of glances of the guy ahead of me, and I was (too) slowly closing the gap. It's been a long time since I went all out for an entire race, and the climbing in the last 2K punished me. I ended up finishing behind the winner by 31 seconds and ahead of the next runner by 71 seconds. It was a small race, but it felt good to finish near the top.
Post-Race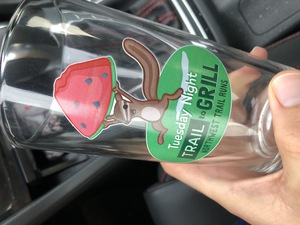 After taking a couple of minutes to catch my breath, I headed over to the registration tent area. I talked with the winner a bit, as well as his friends who ran the 4K. We watched the 4K awards and then I headed out for my cooldown. That probably ended up being a bit quicker than it should've been, in fear of missing the 8K awards. My first podium finish in… decades?… so it would be unfortunate to miss it. I got a sweet pint glass and the winner said he should've cruised in and let me win because his glass wasn't nearly as cool. D'oh! Next time.