Race Report: Sunshine Salutation (June 2019)
This if the sixth of my "trail race each month" goal for this year. Halfway there! The Redmond Watershed is a great running park. There are nice wide, fast trails and you can connect to some other regional trail systems.
Race Information
What? Sunshine Salutation
Where? Redmond Watershed Preserve, Redmond, WA
When? June 25, 2019
How far? 5 miles
Results: 34:08 (4th overall, 4th male)
Photos courtesy of Ryan Thrower.
Goals
I really had no goals going into this race. I'm in the middle of a three week building block, running the most miles of my life. My legs were a bit sluggish on my long warmup. I recognized some fast people from previous races. This was going to be a 5 mile tempo run with some motivation to keep the pace up.
Pre-Race
Twelve miles were on my training plan for the day. I showed up about an hour before the race, got changed, and headed out to get as much of a warmup as I could before the start. Even though I know this park very well, being away from the starting area was nerve wracking and brought back a fun memory from high school.
We were at an indoor track meet at Ohio State and I was running the two mile. There were two heats scheduled. Going through my warm up routine, when I saw the first heat walk down to the starting line, I went to check in for the second heat. I was quickly informed that they combined heats and I should be at the starting line, sending me into a pure panic. I ripped my warmups off, and sprinted down the home straight just to be able to start the race. I don't remember how I ran, but I do remember my coach being not-too-happy with me.
With that memory fresh in my head, I cut my warmup a bit shorter than I could've and got to the start line.
Race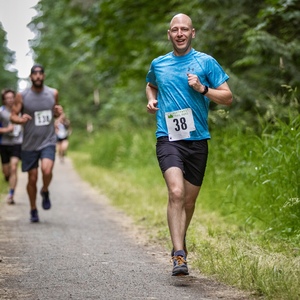 At the start, I ended up on the front line and in the front pack. There were ten of us flying through the initial trail. It was crowded and fast. After a half mile, three small groups formed.
I was running 9th/10th. It was impossible to say which, because the guy beside me matched me stride for stride. On uphills, I'd shorten my stride and slow down – he was on my hip. On downhills, I'd open it up and speed up – he was on my hip. I've never had anyone so clearly try to stay right beside me like this before. I started putting short surges on to try to shake him, to no avail. Finally at the top of a longer climb, I put in a sustained surge to catch the runner in front of us and got in front of him before getting onto a narrower trail. That was the last I saw of my hip-mate.
Looking at the race pictures and then results, I realized that runner was 14 years old. Good for you, kid. Thanks for pushing me. If I'd realize it at the time, I might not have thrown so many surges at you.
At this point, I was sitting in 8th and could see a pair of runners up in front of me. Soon afterwards, they were out of view and I ran the last half of the race completely by myself. I was getting suspicions that the course was short based on my watch and how far around the loop I was, but it was reading good paces so I didn't sweat it.
There was a long, sustained downhill section and I kept my focus on pushing hard. "Make hay while the sun shines." I knew there was a matching long, sustained uphill awaiting me. I ran that well, but was sure that the course was short at this point. I ended up passing another runner who appeared to have pulled a hamstring.
In the final half mile, I was in 7th place but there were two races. I might see runners doing the 10 miler heading back out, each one bumping me up in the 5 mile results. There was one… two… three… and then I saw the finish for a 4th place finish.
Post-Race
After catching my breath and getting some water, I saw the race director. "How confident are you on the course distance?" She laughed and said that GPS is terrible in the park. They've used a wheel and confirmed it's slightly over 5 miles. My watch registered 4.57 miles. There are two upsides to this:
I was running faster than I thought! I'm happy with 6:50 pace on trails.
I've been getting bonus miles in that park! If my watch is registering 90% of the distance, then I'm training faster and longer than I thought.
These mid-week shorter trail races are a lot of fun.