June was a really fun month of training. I got the most mileage (238.4 miles) and elevation gain (20,059 feet) in my life. Here are some of my favorite runs from the month.
Fast finish 18 miles (June 1, 2019)
On the first day of the month, I had 18 miles on the calendar and I planned on doing a 4 mile fast finish. The route was paved and flat. I started with two slowish miles and then settled into an 8:10-ish pace for the next 7 miles. That's when the fun began.
Soon after making the turnaround, I was approaching an older guy to pass him. I said good morning and expected that to be the end of it, since I was going quite a bit faster than him. To my surprise, he matched my pace and struck up a conversation. He was originally from England and had lived here for the last few years. We chatted about training, upcoming races, and he told me how his best results were around my age.
As usually happens when two people run together, the pace quickened. We dropped down to 7:45 pace as we cruised along chatting. I discovered that my "conversational pace" was a bit faster than I had assumed. He ended up going further than he'd planned on, so he turned around so his wife didn't worry. Soon after, I got to the last four miles and it was time to push a bit.
For the final 4 miles, I ran 7:00, 6:55, 6:53, and 6:56. It felt good to open it up a bit, especially after going faster than expected for the previous 14 miles.
Global Running Day (June 5, 2019)
At Apple's developer conference, they have a fitness activity each morning. On Wednesday, it was Global Running Day and they flew in Joan Benoit for a 3 mile fun run. It's not every day that you get to run with the first women's Olympic marathon champion. Before the run, they ran through her long list of impressive accomplishments. She's 62 years old and can still outrun me.
She started at the back of the pack and moved up, running with someone from Nike and mostly talking to him. When they pulled up beside me, I took the opportunity to strike up a conversation. We talked for a few minutes. She was a bit embarrassed that she's only running 60 miles per week. One of her accomplishments is that she's broken 3 hours in her 20's, 30's, 40's, and 50's. I mentioned that I'd love to do it, so she asked what I was training for. When I told her a 100K trail race, she called me crazy. All the more motivation to stick with the training and see this through to completion!
I needed 6 miles for the day, so I broke from the group at the turnaround. When I got back to the course, a guy on a bike pulled up and started chatting me up. He was the sweeper and said he had to stay with the last place person for security and safety reasons. He didn't buy my story that I'd run 3 miles further than the event and wasn't really "doing" the run at this point. He assured me I shouldn't feel bad, but I broke off from the route so he could head up to the people at the back of the real pack. And then I found a company giving out free breakfast burritos for the conference… win/win!
Marin Headlands (June 8, 2019)
After spending a week at WWDC, I got the opportunity to both visit a friend and run some new trails. She picked out a 20 mile figure eight route in the Marin Headlands. There was more elevation gain per mile than in my goal race in October, but she promised stunning views. The run did not disappoint.
I knew I was in for a day when right out of the parking lot I climbed 500 feet in the first mile. There was also an aggressive turkey on the trail. After reaching the top of that climb, it flattened out for a bit. At every intersection, I examined the map on my phone to avoid taking a wrong turn. At one point, the trail appeared to dead end at a road and there were very large signs saying that trail runners shouldn't go that way. It took a few minutes of wandering around looking for where to go before a woman came running out from the trail.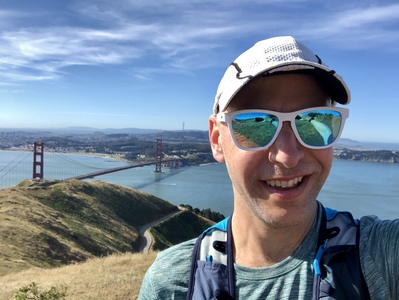 Since I'm not from the area, I wasn't really sure where I was exactly. There were beautiful views of the bay. I started realizing that I was running towards the Golden Gate Bridge. Then, rather suddenly, it appeared before me! I'd just driven across it the day before, but it was still breathtaking. Further up, there was an offshoot from the main trail to an overlook. Opportunity for more elevation and a great selfie? Sign me up!
The rest of the run was beautiful and brutal. There was plenty of running along the coast and lots of climbing. I even got some bonus distance by running with a paused watch. It was a long day with almost 4,000 feet of gain and loss, but totally worth it.
Tiger Mountain #3 (June 27, 2019)
After sitting in meetings all day, I wanted to switch it up from my normal mid-week trails to clear my head. I hopped on I-90, headed to Issaquah, and parked at the closest trailhead to the road. It's been years since I tried running up Tiger Mountain #3, but I decided to give it a shot. After getting slightly lost to get there, I was heading up. It was a nice, sustained climb (2,100 feet in 2.5 miles) and I was able to run ~85% of it. I used something my mom taught me riding bikes as a kid: don't look at the top, just focus on what's right in front of you.
The view from the top isn't that great. (Head over to Poo Poo Point for that!) Dusk was settling in so I headed down after just a minute or two. The footing was increasingly hard to see footing, but I made it off the mountain unscathed and finished up the 10 miles for the day.
Tiger Mountain Tour (June 29th, 2019)
Before heading out this Saturday morning, I looked at my monthly stats and saw that I was within striking distance of 20,000 feet of gain. I needed about 3,800 more feet and had 30 weekend miles to get it. Inspired by Western States updates, I headed back to Tiger Mountain for some more climbing. I took a picture of the trail maps at the trail head and headed out.
The first climb was up on the Poo Poo Point trail. It was a busy day but I got to see lots of cute dogs on the way up. From there, I headed down the gravel road to hop onto the Hidden Forest Trail. Here is where I learned that just because a trail is on the map at the trailhead doesn't mean that it's maintained.
The first few hundred meters were a bit overgrown but runnable. But then it slowly got worse and worse. I considered turning back, but kept hoping that it would get better. I got to a small stream crossing and quickly hopped the rocks to get across… except they were wet and I took a hard fall into the water. That made me lose focus and soon after I banged my head on an overhead limb. Soon after that, the overgrowth got so bad that I was waist-deep in vegitation and couldn't see the trail at all. It was a huge relief to get to the Tiger Mountain Trail and be able to start running again.
In an attempt at following some of the Tiger Claw course, I ended up climbing up to Tiger Mountain #2 and then taking the K3 trail back down. I failed and ended up coming off the mountain in a new place, but got to see trails I never had before.
With a couple of the 16 miles remaining, I still needed about 300 feet of climbing to get to 20,000. I could've pushed them out to Sunday, but I decided to just get it done. In the end, my legs were scratched up, my feet were wet, and it took a long time, but I got in my miles and elevation, and I got home in time to watch Jim Walmsley finishing the Western States.