Race Report: Volcanic 50K (August 2019)
This is the seventh of my "trail race each month" goal for this year, if a couple of days late. Technically I missed July, but I've got two in August to make up for it.
Years ago, I saw the Loowit Trail in a trail running book and circumnavigating Mt. St. Helens captured my imagination. I knew I wanted to run it someday, but the remoteness of the route made it a bit too daunting to take on by myself. This race has had my eye on it for the last couple of years now.
Race Information
What? Volcanic 50K
Where? Mt. St. Helens
When? August 3rd, 2019
How far? 32.3 miles
Results: 7:27:38 (23rd overall, 17th male)
Goals
This was my first ultra since March. I wanted to treat it as a supported long run rather than a race, hoping to work out any issues with my gear, nutrition, and hydration. And in the back of my head, I also wanted a strong finish to validate all the work I've been putting in.
Stay on my feet (): Getting through the race uninjured was top priority. Avoiding falls and twisted ankles was important. Unfortunately, I did end up kicking a lot of rocks…
Eat and drink consistently (): It's a rare opportunity to put in an effort for this long, so it was important to practice eating and drinking. The goal was to drink to thirst and eat every 30 minutes. I had Cliff Bars and Honey Stinger waffles in my pack, and planned on getting more from the aid stations. It went very well and I discovered that Gu has improved a lot in the past decade!
Make a friend (): It's a long day if you keep to yourself and don't talk to anyone. I engaged in some passing encouragement throughout, but spent a good long time with one runner that helped pass the time and prepare me for what awaited ahead on the trail.
Finish in the top 20% (): This was arbitrary, but I wanted some motivation to keep moving when things got tough. There were 218 registered, so I was thinking top ~40. At the 2nd aid station, I was told I was in ~30th. I decided to try to move up to ~20th if possible and got as high as 22nd at one point before falling back to 23rd. Later I found out there were 178 that started, putting me at 13%.
Move efficiently through aid stations (): At Badger Mountain, I wasted quite a bit of time in the aid stations. Here, I wanted to practice getting in, getting resupplied, and getting out all with forward motion throughout. In the first three aid stations, I passed people who were taking longer.
Pre-Race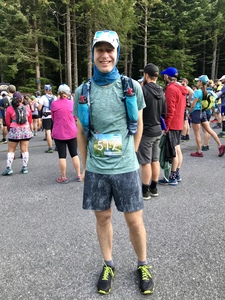 I traveled down to the race area the day before and very little went according to plan. From a late start, to worse-than-normal traffic, to having to buy sheets at Walmart, it wasn't the relaxing day I was hoping for. But I ended up getting one of the best nights of sleep before an early start race that I've ever hard, so I must not have been as stressed out as I thought I was.
The morning of the race was fairly uneventful. Got to the starting area an hour before the race, got my required safety gear checked, and got an excellent bib number of 517. They even had pre-race coffee.
Race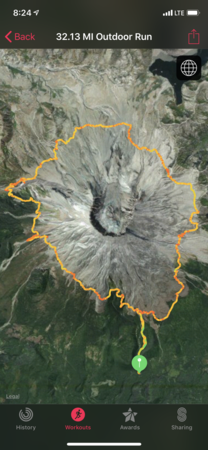 To read more about each of these sections, check out the Course Description.
Start to Butte Camp (Mile 6.3, 1:32:13)
The elevation profile made this first section look brutally steep, causing me to plan on hiking the bulk of it. While I did hike the steepest sections, it was surprisingly runable. The first mile was a wider jeep trail, allowing some manuervability through the crowd. By the time we got up onto the Loowit Trail, we'd thinned out enough to run comfortably.
Having previously climbed to the rim of the volcano, I had a sense for what they meant by "boulder fields", but I hadn't tried running across them before. This was my first taste. Runners I'd previosly zoomed by were now zooming right back by me as I tiptoed across.
Key Takeaway Always have an eye on where you're going across the boulder fields. If you don't know exactly where you're heading, you're losing time. Spot the trail marker first, then move confidently towards it.
There were lots of warnings about bees on the course. On a climb about halfway through this section, I heard them and felt them on my calf.



I swatted them away and sprinted up the hill, escaping unstung. That was the last I saw of the famous vicious bees, but post-race I heard lots of talk of them. I got lucky, most people got stung.
I was very happy with the first aid station execution. As I approached, I finished off a soft flask of water. I handed off my two flasks, asking for electrolytes in one and water in the other. I dumped some trash, grabbed three fig newtons to eat on the run, asked how far to the next aid station, and thanked the volunteers on my way out.
Butte Camp to Toutle River (Mile 12.2, 1:11:34)
The terrain changed significantly in this section of the course. There were the first meadows of fragerent wildflowers, but most memorable were the huge river washouts. They had steep banks covered in loose rocks that required skiing down and trying to stay upright. These culminated in the largest of the dropoffs that required a rope to rappel down. I lost my feet and slammed into the cliff, but managed to hang onto the rope.
The last couple miles of this section were a relentless descent through a forest. There were sections of overgrown trail, but it was mostly a wide, dirt trail. This was the section where the trail felt most familiar to the trails I train on. As I got near the bottom, I heard a distant ring of cowbells as runners entered the aid station.
I moved efficiently through this aid station, as well. Similar routine of finishing off a soft flask as I entered, quick grab of food for the trail while volunteers replenished my liquids, and on my way. Someone mentioned that there were about 30 people ahead of us, and I passed several who were taking more time in the aid station.
Toutle River to The Spring (Mile 20.3, 1:56:48)
Just below the aid station was the Toutle River. It was a dry year, meaning we could cross it without getting our feet wet. On the far side was another rope that was necessary to climb the steep 40 foot washout.
Here's where it got hard. At the top of the river washout was an 800 foot climb. Throughout it, the cowbells from the aid station were ringing across the valley reminding me that there were a steady stream of runners behind me and that I needed to keep moving. After the climb was a long traverse of a sandy canyon, which was very slow going and required mental focus not to misstep and slide down off the trail. The trail climbed out and then ran along the rim, giving a good view of the runners within about a mile behind.
Once again, the terrain changed drastically as we entered the blast zone. The trail leveled off and I was able to pick up the pace significantly. I likely forgot that this was a supported long run instead of a race, because I was spotting the runner in front of me and chasing them down. A couple of miles into this, there was one woman ahead of me that was staying about the same distance ahead of me. I decided to catch her, which ended up being a really good decision.
As I pulled up to her, she immediately moved aside and offered encouragement. I passed her but immediately ran into navigational challenges. We were in the heart of the blast zone, where there's not much of a defined trail. There wasn't a runner in sight ahead of me to spot, so I had to start picking up the orange cones myself. She'd run the race before and was much more efficient at this, so we ended up running together.
There were several stream crossings and there was finally one that required going in knee-deep. She didn't even pause but I spent a minute looking for a crossing. Nope, the feet were getting wet. At least it was refreshing.
For the rest of this section, we talked a good amount. She ran the race last year and had some good tips for the rest of the race. Soon enough, some low trees appeared ahead and the aid station was upon us.
I spent slightly longer in this aid station, but not unreasonably so. I got water dumped on my head, which was amazing. I also drank about half the flask of electrolytes and got refilled again before heading out.
The Spring to Ape Canyon (Mile 24.0, 53:32)
This was the shortest section of the course and possibly the most runnable. I picked up the pace a bit and left Erin behind. There was one climb up to the highest point on the course. When I looked down, I saw her just getting to it. I later found out that she'd taken a wrong turn and had to backtrack. "More kilometers, more fun!" After that, there were some sketchy canyons to get in and out of but otherwise was flat and fast.
I didn't realize it was a short section until I saw the aid station from a mile away. I did the math and realized the last section to the finish would be longer, but it was good to get in and out of another aid station. There were day hikers asking what was going on, and I found out that I was in 23rd place. Again, I took an extra minute to take in some extra liquids and fig newtons before setting off for the final stretch.
Ape Canyon to Finish (Mile 32.3, 1:53:19)
This was it! The final push. Just 8 miles left and my legs still felt really good. The course description promised canyons that felt like they'd go on forever, and the mountain delivered. Down and up. Down and up. I passed someone but then Erin appeared out of nowhere! She kept me moving faster while reminding me to save my energy for the final boulder fields. We worked really well together through this section. I'd lead while climbing/running and then she'd take the lead on the boulder fields.
The final boulder field was a sight to see. It seemed endless. I stopped to take a panoramic picture, which was bad race strategy but I don't regret it. Erin got out ahead of me and I never ended up catching her. I was much slower without being able to follow her exact path across the boulders. But I made it and then it was smooth, downhill running the rest of the way.

At the top of the stick of the lollipop course, there were many many signs telling runners to turn. I guess it'd be pretty brutal to do a second loop. This was what we climbed with fresh legs hours before. I was disappointed I didn't know exactly how far I had left at that point.
Key Takeaway In a lollipop course, make a mental note of how long the stick is on the way out so that you know how much is left on the way back in.
I thought I had about 2 miles downhill remaining and I was basically right. I opened it up and had my two fastest miles of the day. The final mile, which was very downhill, was sub-7 minutes. I was trying to break 7:30 and knew it would be close. When I heard the cowbell indicating Erin was approaching the finish, I knew I'd make it. I popped out of the woods and across the finish line. A quick congrats from the race director and to Erin, and my day was done.
Post-Race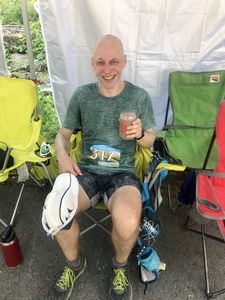 In lieu of a medal, we got a pint glass. In lieu of a beer, I got chocolate milk and it was delicious. They also had a good spread of food with some pulled pork that hit the spot. As I ate, I reflected on the finishes of my two 50K races this year. In my Badger Mountain race report, I wrote:
My right IT band had tightened up, so running downhill was fairly uncomfortable. […] The final descent was more of a shuffle, mixing in some walking on the steeper parts. Every turn had me looking to see if I could see the finish below.
Just over four months later and my experience at this race was on the other end of the spectrum. Instead of begging for it to be over because of the pain, I was pushing forward trying to beat a time. It was the strongest finish to an ultra I've ever had.
The next couple races are going to be challenging. This course was no joke though, and arguably harder than what's coming my way. I've still got work to do, but the work I've done is paying off.