Race Report: Tuscazoar 50 Miler (August 2019)
This is the eighth of my "trail race every month" resolution, and my final tune up before the Cuyamaca 100K. I traveled back to Ohio for a family event and this first-year race lined up perfectly. (Posting the report five months late is less than ideal…)
Race Information
What? Tuscazoar 50 Miler
Where? Tuscarawas County, Ohio
When? August 31, 2019
How far? 50 Miles
Results: 8:27:38 (1st overall, 1st male)
Goals
A: 8:45 (), B: 9:15, C: PR — No 50 mile course is the same and the only one I'd finished was net downhill in just under 10 hours. I thought that my fitness was high enough I could knock some significant time off of that.
Negative splits () & a strong last 5 miles () — The race atmosphere got me running faster on the tow path than was reasonable to negative split, but I dug deep at the end of the race and ran the end really well.
Positive mental attitude (): I chose to do this, I'm privileged to be able to do this, no whining.
Win (unspoken) (): I'd been clicking around the entrants list on Ultrasignup and thought I'd have a shot. You never know how much people have been training or who will show up, but based on previous results I put together a race plan in case I was in a real race.
Pre-Race
Having never seen a course map, I had to rely on verbal descriptions of what was ahead. I knew there was an 8 mile section of tow path and hills after that, with three significant climbs. There were also some new trails that they had to make to round out the 25 mile loop.
Loop 1 (3:54:12)
Nobody in the starting area looked particularly keen to get up to the front and assert themself as a front runner. I noticed one guy had a Burning River 100 tattoo with a time on it. Given that time, I guessed that I was in shape to beat him. When the gun went off, he shot out and flew up the long hill. Entering the single track, I was cruising along in third place, in no rush but also not wanting to fall too far behind the leader. At the three mile mark, we got to a straight, flat section with plenty of visibility. I moved into second place and saw the leader 200 yards ahead. I slowly moved up over the next two surprisingly flat miles. Just before the aid station, I pulled up alongside him and started chatting him up.
After a quick bottle refill and grabbing some fig newtons, we were off. His name was Stephen and he lived ten minutes from the course. He told me I was obviously a strong runner but cautioned me about the hills after the tow path and suggested I run 9 minute miles with him. We had a nice conversation for about a mile and then I wished him luck and pushed ahead. I'd moved into the lead and now needed to prove that I could hold it.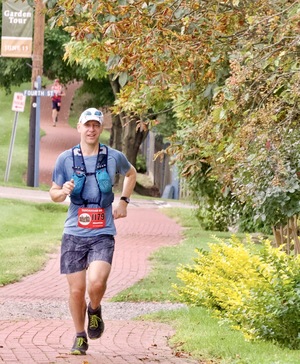 When I saw that my next mile was sub-8, I chuckled and slowed down to 8:30's for the next two. Assuming he kept his pace, I figured I had a couple minute lead. Yet after a quick aid station, he was rolling in as I was rolling out. My next five flat miles were 7:32, 8:06, 8:08, 8:02, and 7:49. An aid station was in one of those! My race plan was to run the tow path but this was a bit healthier pace than I was planning on and I was realizing that negative splits were pretty unlikely.
The last ten miles of the loop were on single track and mostly hilly. I pushed hard throughout, knowing that I was being chased. I should've walked more but I did on the steeper climbs. The hills were rolling rather than relentless climbs. Some of the footing wasn't great: there were new trails that were really rough and one section of mowed field on a steep right-to-left angle that was barely runnable. Everyone had the same conditions though, so I kept moving.
The only turn of the day that I almost missed was in the section after the mowed field. I was looking off to my right at some birds and the course took a left onto a jeep road. It was the rare turn that didn't have orange X's on the ground telling you not to go the other way. Since the course was so well marked, I quickly realized there was no orange ahead of me and quickly got moving in the right direction. Birding and racing don't mix!
At the final aid station of the loop, they told me I had three miles left. It was mostly downhill but finished with the last major climb. As I crested it and came into the camp, I realized I was going to run a sub-4 hour loop. Too fast, but I felt great for having run 25 miles. Time to see what was left for the second loop.
Loop 2 (4:33:34)
I started this loop walking up the opening hill while I rubbed in sunscreen, focusing on spending as little time standing still as possible. Sooner than I would've liked after leaving the start/finish area, I got word that I only had a four minute lead. Leading is stressful — you're constantly being chased. Over the next three miles, I walked more of the uphills than the first time around but tried to remain focused on moving with purpose.
When it flattened out, I was conscious of the fact that I might be in view of second place. I picked up the pace, hoping to extend the lead and not give him encouragement that I was within reach. I resisted the urge to take a glance over my shoulder. I've been the beneficiary of that several times over the years and didn't want to give the appearance that I was struggling. I felt great. The flat miles weren't as fast this time around. The fastest mile was 8:00 and had several in the mid-8's.
I didn't execute the aid station at the mid-point of the flat miles well. The air was a lot more humid than I'm accustomed to so I was drinking plenty, but I was having a hard time getting food down because my mouth was dry. I'd switched to gels at the halfway point and needed more. The aid station didn't have any but they assured me the next one would. The scramble for gels meant that I didn't get more sunscreen, which I needed on my neck. I was taking too long and decided to just get moving. On the way out, I grabbed a "peanut butter" sandwich that turned out to be Nutella and that didn't work out at all.
Key Takeaway Communicate better with crew when entering an aid station. Verbalize what you need so they can help you.
As I left the aid station, I texted a friend: "Mile 34. Still in the lead." Her reply came quickly: "Go get it." It gave me a good dose of motivation to keep pushing the last 16 miles. Due to the rural location, I didn't get the message from my crew that my lead had extended to 8 minutes. This section was a long lollipop, with the loop about a mile long. When I rejoined the tow path for the return, I saw Stephen. Assuming he'd fallen out of second, I gained some confidence that I was running well but I wasn't sure how much of a cushion I had.
The final ten miles of hills were more challenging. None of my individual muscles were hurting, but I was just overall fatigued. I vaguely remembered the trails from the previous loop, but certainly remembered the sections.
In the next-to-last section, I knocked on the door of the pain cave. I'd been running in the lead for 36 miles, feeling pressure from behind me but not having seen anyone directly behind me (in my race) for 32 miles. I didn't want to fall back now but I knew I was going quite a bit slower this time around. I could only hope everyone else was, too. I focused on some of the things I'd written about before the race, stayed positive, and avoided going into the cave.
Towards the end of the mowed field, I got a good view of a stretch behind me with no one in sight. With that confidence boost, I decided to run a strong final five miles so that I could put a

up above. By the time I'd gotten to the final aid station, I was confident I was going to win and those final 3 miles were a lot of fun. Breaking 8:30 seemed possible, which kept me moving with purpose. I talked to the 2nd and 3rd place runners in the 100 miler for a minute as I went around them and they congratulated me. I encouraged a woman who was ready to be done with the 25 miler. The final climb, while slightly slower than the first time around, was a celebration of the day's effort.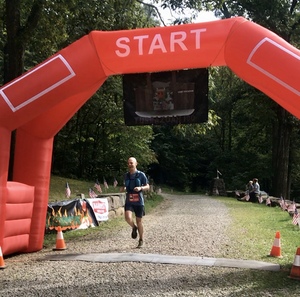 Cresting the climb, I let out a cheer and started a kick to the finish. My calves both immediately told me that a final kick wasn't in play today and I calmed right down again. With a huge smile on my face, I cruised through the camp and down to the finish line. After I crossed, the RD looked at me and asked, "You're not done, are you?" I sure hope so!
I ended up winning by 18 minutes, meaning I more than doubled my lead in the final 16 miles. When I was pushing through and struggling mentally, I was gaining ground.
Post-Race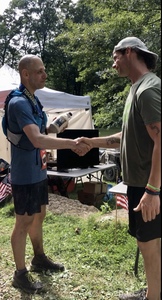 The RD presented me with my medal and victory maple syrup, harvested from the Boy Scout camp we'd just spent the day running around. We chatted about the course and how it differed from my traning out west. Then I found a chair and sat for the first time all day. I talked with my crew and then with the second place finisher when he came in.
It was a successful day and I won an ultra for the first time. I got valuable experience of relentless forward progress by feeling the pressure of the lead that I hope I can use for bigger races where I won't be out front. Unfortunately, I pushed a bit too hard and my calves and Achilles tendons took a couple of weeks to heal up. I missed a peak mileage week, but was confident enough in my training to take my medicine and rest.